About
Fearless Chix
Fearless Chix is about transforming lives. Changing your life through adventure, without judgement, and in a controlled environment. It's about facing your fears and realizing how much better life is when you take on a challenge and succeed!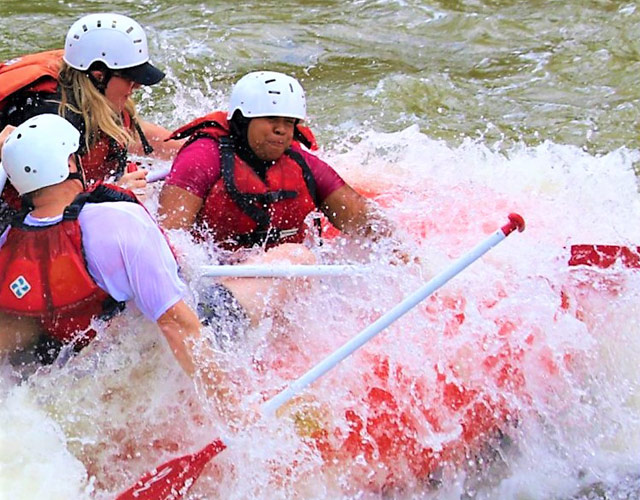 Fearless Chix was founded by Cheryl Bailey – a community director, adventurer, challenge-taker and gatherer. Cheryl's the kind of person you want to be around. She mixes things up, gets people together and makes everything fun. Starting this company, Fearless Chix, was kind of self-serving for her. She wanted a group she could turn to when it came to working out her own fears. As a gatherer, putting the right people in place comes naturally. Adding experts who could give her the information she needed to conquer her fear seemed smart. After a few trips and conversations with friends, she realized that others might be looking for the same thing – a rational, controlled way to overcome fears.
Fearless Chix schedules events from mid-February to the end of November. We design adventures with the goal of conquering fears – fear of water, heights, backpacking, driving – you name it, we'll design it. We even do trips that check off bucket list items. We offer classes – classes that will help someone grow, get confidence and take on a challenge. As our members come to us with ideas, we expand the curriculum even further. Everything we do is designed to expand horizons and help people enjoy life to its fullest!
The Team
This is not a one-person job. Not at all. It calls for expertise and experience. The expert takes the guess work out of the adventure. Unless you've experienced the challenge, you don't know what you don't know. And we're not real big on surprises! Oh sure, there are obstacles – but those obstacles are known factors when we start. We're prepared. Here are some of the people who plan and participate in Fearless Chix adventures.
Cheryl Bailey
Founder | Planner | Gatherer |
Facing Fears Coordinator
Dayna Mabry
Backpack Coordinator | Researcher |
Collector of Adventure Gear
Bookclub Coordinator
Bookclub Coordinator | Nature Freak |
Dog-lover | Carolina Girl Fond of Music & Wine
Fitness Coordinator
Fitness Coordinator | Strength Trainer |
Expert on Sustainability
Quirk Coordinator
Quirk Coordinator | Expert in Unconventional |
Loves Weird but Fun Adventures
Are You Ready?
The first step is learning more. Give us a call or contact us. Learn how you can become a member of our adventure club!